Microsoft Roadmap
Oracle Certification Score Reports Available Through CertView Only
Effective November 16, 2012, Oracle Certification candidates will receive their exam results directly from Oracle's certification portal, CertView at http://certview.oracle.com. Oracle score reports will no longer print at testing centers. After completing an Oracle Certification exam, candidates will log in to CertView to access and print their exam scores by selecting the See My New Exam Results Now link or the Print My New Exam Results Now link from the welcome page. This process change makes Oracle's CertView tool the single source for all exam and certification records.
An Oracle Web Account is required for CertView Access. Candidates may authenticate their account at certview.oracle.com to avoid delays in receiving exam results. Candidates should allow 30 minutes after completing an exam to view a score report. You may direct candidates to the Oracle Certification Website to answer their questions.
The Oracle client guide has been updated.
US Paper
https://vss.pearsonvue.com/getFile.cfm?id=1HQC212DBB72A823D51A0FFB09C7A34B26AMLT%2BCqAQ%3D%3D
A4 Paper
https://vss.pearsonvue.com/getFile.cfm?id=1HQ30613063B172DB97DBC46BDDA881588DMLT%2BCqAg%3D%3D
Relaunch of Microsoft's second shot on Monday 27th August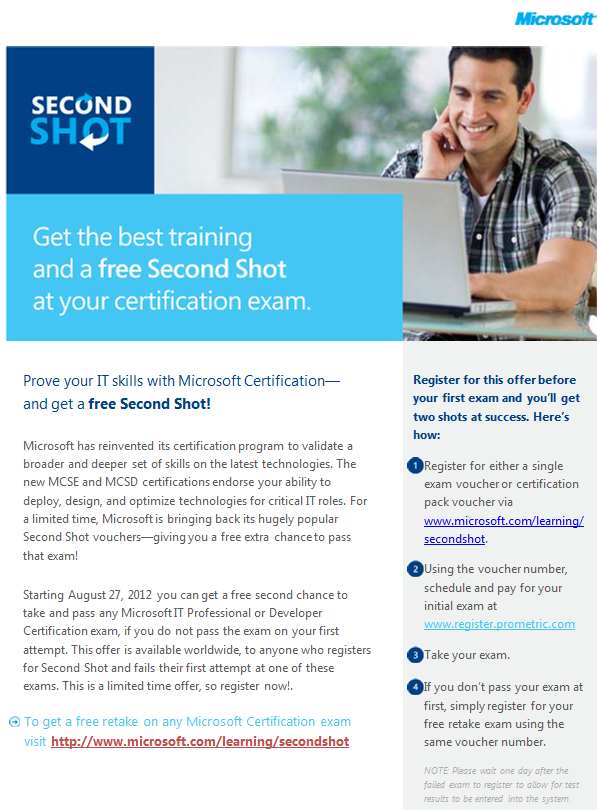 Cisco Exam Price Increases Effective January 16, 2012
Cisco continues to make strong investments in its certification and training program to meet the growing demand for skilled and qualified networking professionals. To facilitate growth, maintain competitiveness, and standardize exam pricing, Cisco is adjusting prices of the Cisco CCNA® Routing and Switching composite exam, the ICND1 and ICND2 entry-level and associate exams, and the CCDA® exam. The price changes are effective Monday, January 16, 2012.
* CCNA exam 640-802 is increasing from $250 to $295
* CCDA exam 640-864 is increasing from $150 to $200
* ICND1 640-822 and ICND2 640-816 are increasing from $125 to $150
A Frequently Asked Questions (FAQ) document will be available on the Cisco website should candidates have any questions.