We are the Authorised Test Centre for Pearson VUE – A global computer-based testing solutions for Information Technology and Professional Testing Program. Our Site ID is 57300.
Exams Available at Pearson Vue
Category
Testing Program
Academic/Admissions
Association of Professionals in Business Management (APBM)
Employment, HR Management & Safety
BOMI
International Society of Arboriculture (ISA)
WorldaWork
Financial Services
Association for Financial Professionals (AFP)
American College
Global Association of Risk Professionals
International Federation of Technical Analyst (IFTA)
PRMIA
Health, Medicine, Nurshing & Pharmacy
American College of Sports Medicine (ACSM)
Information Technology
Adobe
Aruba Networks Inc.
Avaya Inc. Testing
British Computer Society (BCS), The Chartered Institute for IT
Brocade Communications
Business Objects
Check Point Software Technologies
Cisco Systems, Inc.
Citrix Systems, Inc.
CIW
CompTIA Testing
CWNP
Dassault Systemes
EC-Council
EMC
EXIN
Fortinet
Institute of Certiifed Records Managers (ICRM)
ILOG
Isilon Systems
iSQI
Linux Professional Institute Testing (LPI)
MySQL
Nokia Qt
Nokia Siemens Networks
Novell Testing
Object Management Group (OMG)
Oracle Certification Program
Pegasystems Inc
PostgreSQL CE (SRA OSS)
Riverbed Technology
RSA Security Testing
SAP Security Certified Program
Siemens Enterprise Communications SITA, Inc.
SpringSource
Vmware, Inc
Zend Technologies, Ltd
Exam Process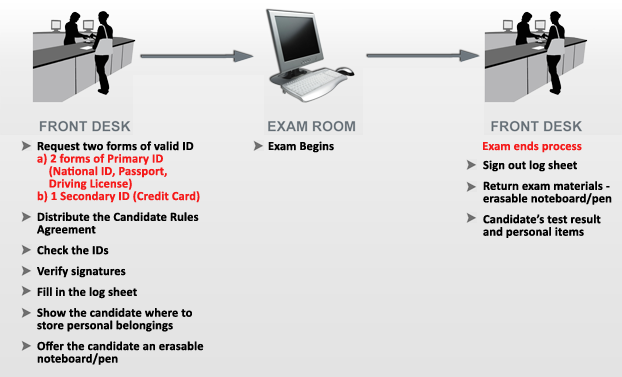 Frequently Asked Question
[jaccordion size="xsmall" theme="smoothness" active=""]
How can I check the status of my certification? Why haven't I received it yet?::
To obtain information about the status of your certification, you shall contact the examination sponsor directly.
[jacc/]
When will I receive my score reports?::
Most exam score reports will be printed immediately upon exam completion. However, there are cases where exam results are not available immediately. Please contact the test sponsor for more information.
[jacc/]
I'm not sure which exam I should take?::
Please contact our Course Consultation at +6088 381111 or email us at enquiry@i-skill.com
[jacc/]
What payment methods may I use to pay for my examination?::
Currently we only accept credit card.
[jacc/]
When do I need to arrive for my exam?::
You shall arrive at the testing centre at least 30 minutes before the test is scheduled to begin. Late arrival may result in exam cancellation and fee forfeiture.
[jacc/]
What do I need to bring to my exam?::
You shall bring two (2) forms of Primary Identification and one (1) form of Secondary Identification to the testing site, both with signature. The test will not deliver without the appropriate form of identification.
Acceptable forms of Primary Identification include:
Government issue ID (NRIC)
Passport
Driving license
Acceptable forms of Secondary Identification include:
[jacc/]
What if I need to cancel or reschedule my exam?::
You may cancel or reschedule your exam by visiting Pearson VUE's website
[/jaccordion]