We are pleased to announce that i-Skill has been awarded Authorised Prometric Testing Centre status.
Prometric is the leading global provider of comprehensive testing and assessment services. Authorised Prometric Testing Centres (APTCs) are dedicated to the delivery of certification tests for professionals in information technology. This includes test delivery services for over 100 partners including Microsoft, Novell, Sun, Hewlett Packard, IBM, Oracle and Citrix.
i-Skill is pleased to be one of the few Authorised Prometric Testing Centres in East Malaysia. This is a highly significant achievement for the company as it enables our customers to register and take their certification exams locally, avoiding costly and time-consuming travel arrangements.
Exam Available at Prometric
Microsoft
3Com
Sybase
CIW
CompTIA
EC-Council
Hitachi Data Systems
IBM
Juniper Networks
Linux Professional Instutute (LPI)
Lotus
Mile2
Nortel
Sun Microsystems
Examination Process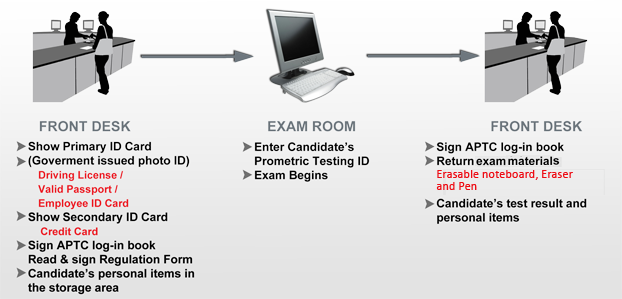 Frequently Asked Question
[jaccordion size="xsmall" theme="smoothness" active=""]
How can I check the status of my certification? Why haven't I received it yet?::
To obtain information about the status of your certification, you shall contact the examination sponsor directly.
[jacc/]
When will I receive my score reports?::
Most exam score reports will be printed immediately upon exam completion. However, there are cases where exam results are not available immediately. Please contact the test sponsor for more information.
[jacc/]
I'm not sure which exam I should take?::
Please contact our Course Consultation at +6088 381111 or email us at enquiry@i-skill.com.
[jacc/]
What payment methods may I use to pay for my examination?::
Currently we only accept credit card.
[jacc/]
When do I need to arrive for my exam?::
You shall arrive at the testing centre at least 30 minutes before the test is scheduled to begin. Late arrival may result in exam cancellation and fee forfeiture.
[jacc/]
What do I need to bring to my exam?::
You will need to bring two (2) forms of Primary Identification and one (1) form of Secondary Identification to the testing site, both with signature. The test will not delivered without the appropriate form of identification.
Acceptable forms of valid Primary Identification include:
Government issue ID (NRIC)
Passport
Driving license
Acceptable forms of non-photo identification include:
Credit card
ATM card

[jacc/]
What if I need to cancel or reschedule my exam?::
In order to cancel or reschedule your exam, you may contact us at +6088 389303 BEFORE 2.00 pm (8:00 GMT) from Monday to Friday but except Public Holiday or by visiting Prometric Website.
[/jaccordion]